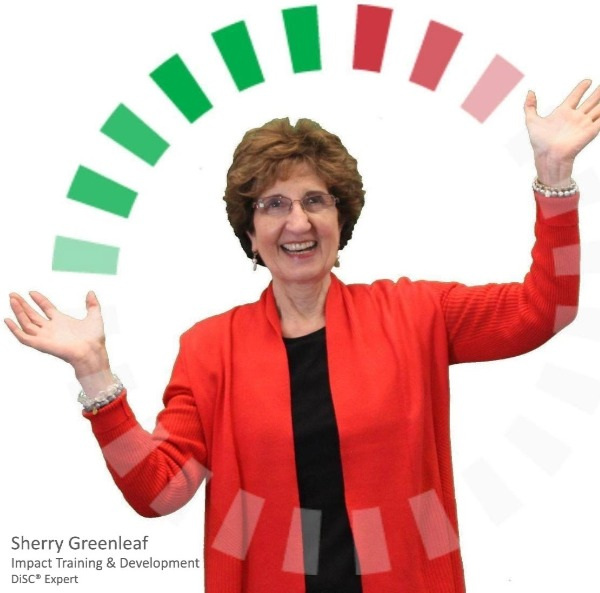 Sherry Greenleaf is a Registered Corporate Coach and cofounder of IMPACT Training & Development, Inc., a firm specializing in building and strengthening core leadership, communication and interpersonal relationship skills within a workplace or organization. Her areas of concentration include: Leadership, Communication, Conflict Resolution, Change Management, Team Building, Creative Problem Solving and Customer Relationships.
Sherry has more than 30 years of business and management experience in the insurance and retail industries and is an authorized partner of the Wiley Everything DiSC® Platform. Sherry uses the Wiley online tools and assessments in her workshops to effectively engage employees to improve job performance, reduce workplace conflict and increase organization productivity.
Sherry takes a strategic, innovative, and custom approach when developing people and programs. Her expertise helps participants take their training beyond the workshop and implement positive interaction on a 'real time' level back in their organization.
Sherry earned her Bachelor of Science in Marketing from the Ohio State University and is a certified facilitator of the Increasing Human Performance program through Edge Learning Institute and a graduate of the International Creative Problem Solving Institute (CPSI). She is a Registered Corporate Coach through the Worldwide Association of Business Coaches (WABC).
She is the past-president and cofounder of the Cleveland Coach Federation a chapter of the International Coach Federation and past president of the Cleveland Chapter of the American Society for Training and Development (ASTD). She is an active member of the OD Connection, the Society of Human Resource Management (SHRM), the American Society of Training & Development (ASTD) and International Society for Performance Improvement (ISPI).
Sherry lives in Cleveland, Ohio and loves to travel, listen to audio books, and delights in dark chocolate.